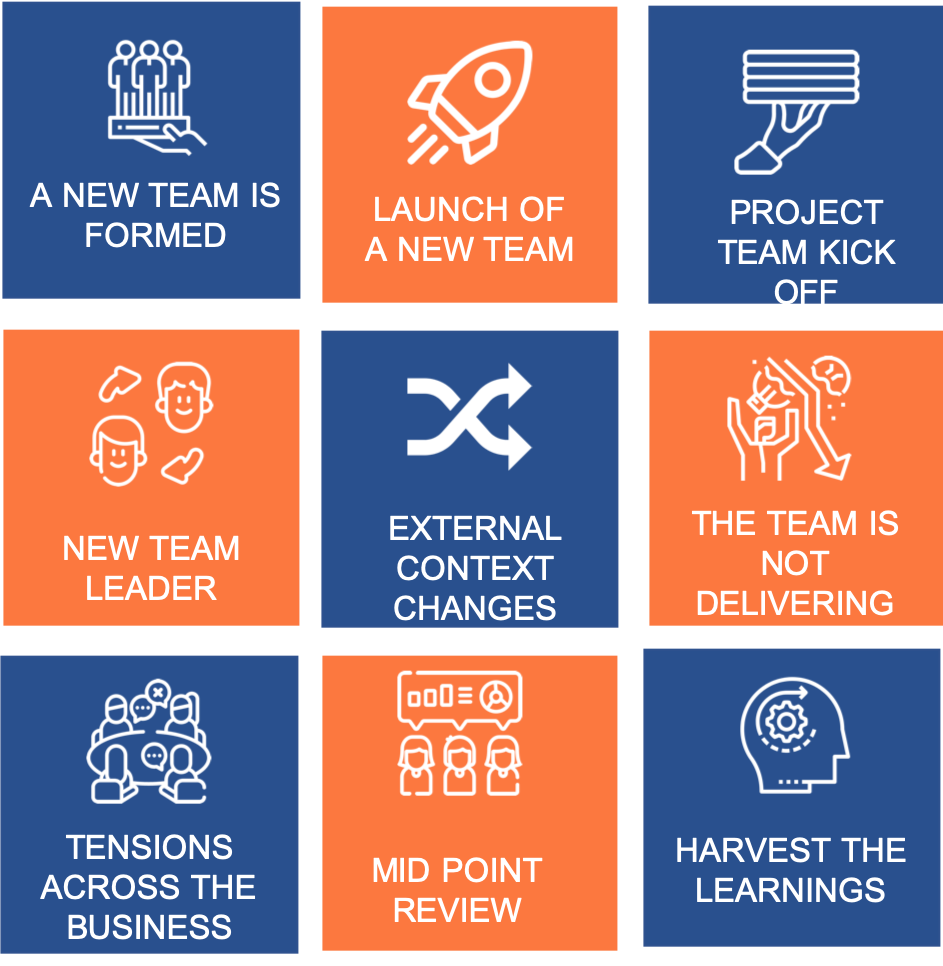 9 TEAM MOMENTS THAT MATTER
This series of short posts explores more deeply the Nine Team Moments that Matter when you, as a team leader, may need to pay extra attention to the needs and performance of your team. We identified these moments by blending our review of the research into high performing teams and our more than two decades of working with teams as internal and external consultants / coaches. new team is formed
Moment 1: a new team is formed
The formation of a new team is a natural place to start our deep dive into the Team Moments that Matter. There could be plenty of reasons why a team is being formed or reformed; a new business, a new project or an organisation change.
"Whether a team succeeds or fails is often determined before the team ever meets. Initial team design choices powerfully shape team effectiveness" (Hackman et. al). For this reason, forming a new team is primarily a leadership task.
Remember, real teams do real work…together!
Many team leaders I have worked with have wanted to wait until the team comes together, and collectively design how the team will be shaped and work together. Whilst this is noble, not all team members may have the knowledge and insights required to address the critical team design questions. These include:
What is the work we need to do that requires me to have a team, as opposed to a group?
What about our work will require the team to work interdependently?
What is the unique purpose of this team? Is our purpose compelling, challenging, and one that will make a difference?
Who do I 'really' need on my team and what are the skills they will bring?
Am I falling into the trap of being too inclusive and making my team too large?
Am I clear on the ways of working and behaviours needed for our success?
Have I ensured that my team will have access to the resources it needs from the wider organisation?
How will I ensure we are continually improving as a team?

As team leader you should place 60% of your effort on the upfront design of your team.
To support team leaders, we at Nexi Consulting created a 'check list' of question or thought starters that we work through in a methodical sequence.
The output is then shared with the key team stakeholders to ensure organisation alignment and commitment to the future team's success. It also creates a great platform or foundation for the team launch, the topic of our next article.
You can access the check list by filling in the form below:
References:
Hackman, J. Richard, Ruth Wageman, and Colin M. Fisher. 2009. Leading teams when the time is right: Finding the best moments to act. Organizational Dynamics 38(3): 192–203.