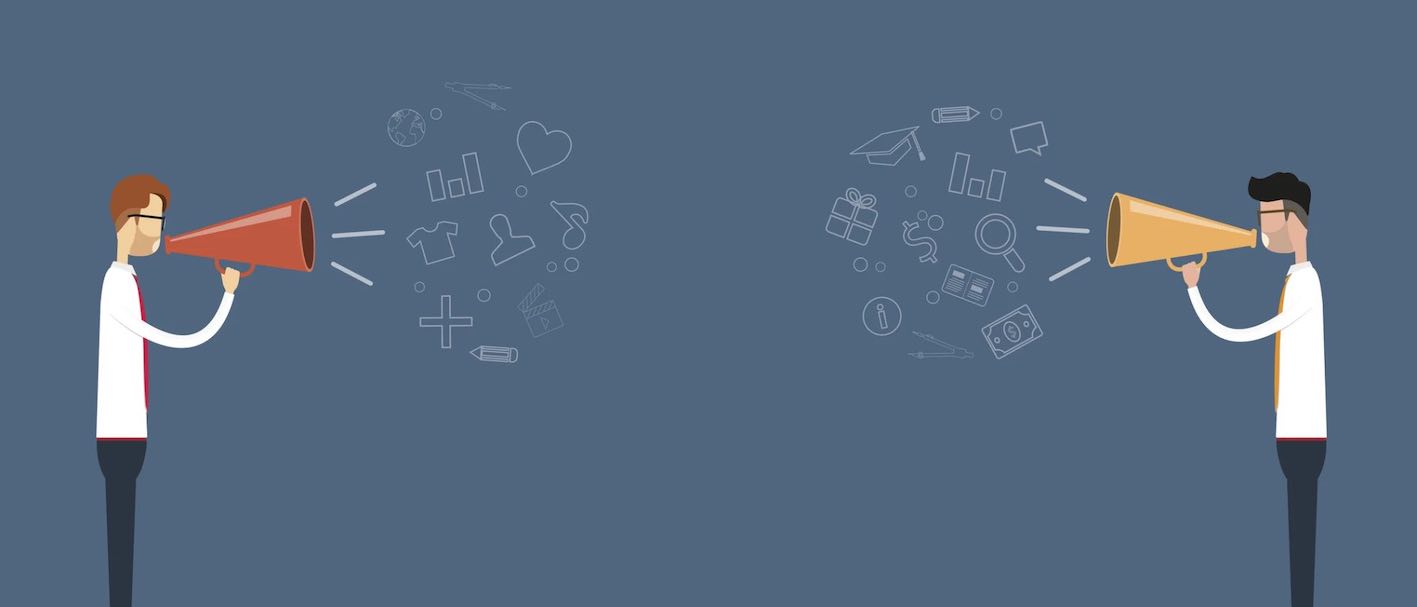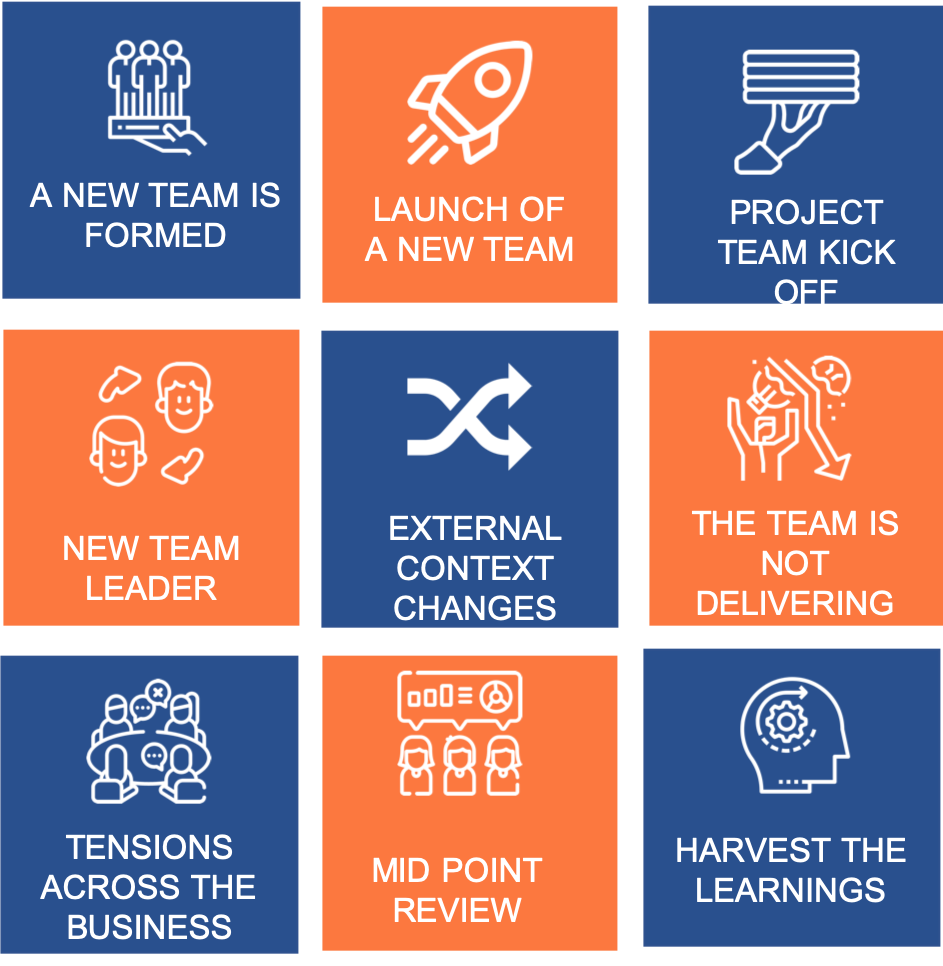 9 TEAM MOMENTS THAT MATTER
This series of short posts explores more deeply the Nine Team Moments that Matter when you, as a team leader, may need to pay extra attention to the needs and performance of your team. We identified these moments by blending our review of the research into high performing teams and our more than two decades of working with teams as internal and external consultants / coaches. 
Moment 7: cross business tensions
A Team Moment that Matters focused on tension across the business, or between teams, might seem out of place. Silo working, poor cooperation or collaboration, misinformation flowing around the organisation, poor allocation of scarce resources are all examples of tensions across the business. They are also examples of unhealthy organisations.
Authors Rummler & Brache (1995) refer to these cross-business tensions as managing the white spaces between the boxes. That is, ensuring there is no value erosion taking place between the departments or teams as represented on an organisation chart.  And yes, every large organisation has some form of organisation structure, whether formal or informal.
If we look closely at what is often happening, the team dysfunction we observe mirrors that which we might see within a single team. By taking a 'team of teams' approach, we can often address cross organisation tensions or poor organisation health.
"Team of teams" refers to a part of the business that is formed of multiple teams, each of which has its own unique purpose, and at the same time are interdependent in achieving the wider organisation's purpose. That is, each team's outcomes are dependent on the actions and outcomes of the other teams. This is more than a matrixed organisation. It is multiple teams that are doing work that required them to be interdependent.
The challenge often lies in teams being able to identify what aspects of their combined work requires them to be interdependent and what not.
CASE STUDY: Regional leadership team - manufacturing
Recently we worked with a regional leadership team who expressed dissatisfaction with how they were working together and the collective impact they had on bottom line performance. Our exploratory discussions identified clear cross business tensions. We took a two-step approach working with this team.
Step 1: Start with the leadership team
First, we started with the regional leadership team to sharpen their team purpose and core deliverables ensuring they were clear around their interdependencies as a team. What really helped this team was thinking about their "regional must win battles" that only they, as leaders can shape and direct. (see the book Must Win Battles by Killing et. al.)
We then zoomed out to look at their individual teams and the work of each team. By mapping this out we quickly identified the points connection between the teams as well as with the wider organisation purpose and required process alignment. Specifically, we shone the light on critical processes, hand overs, required knowledge & resource sharing so that the regional business had greater impact.
Step 2: involve the extended teams
The second step was the bring an extended regional leadership team together where a portion of their agenda focused on "needing to be a team of teams". The best teams invest a tremendous amount of time and effort exploring, shaping, and agreeing on a purpose that belongs to them both collectively and individually.
We shared the work done by their leadership and gathered feedback on what was missing. This aligned everyone around the "what" of collaborative working. Once agreed, we asked small, cross team groups to work on the "how". This proved to be very powerful. In some cases, it was the first time that a team understood the consequences of delivering their piece of the value chain either late or in a less than useful format to another team. More excitingly, new and more efficient ways of working and behavioural agreements emerged, and in some cases immediately implemented.
The above process created a sense of greater accountability and commitment to the wider regional organisation. In a way, a sort of conscious accountability (Tate, Pantalon & David, 2022)
let the data do the talking
A great way to assess the health of your organisation is to have multiple teams complete the Team Diagnostic Survey.  By taking an enterprise wide approach, you can quickly see whether teams feel they have the support of the organisation at large to be successful, that is are they operating in a supportive context. Further, does the culture of the organisation supports team effectiveness. This often emerges through implied norms, behaviours and ways of working. If these two elements score low in aggregate, there may be a deeper organisational issue that needs to be addressed.
Aggregating  the results against the 6 Team Conditions Framework gives senior leadership insights into team strengths and areas for improvement.  Looking more deeply into the data, leaders can 'go see' what successful team leaders are doing compared to their peers. This becomes exceptionally powerful when you add business performance results.  The research and experience of 6 Team Conditions has found that applying an enterprise wide approach to teams you can strengthen collaboration and improve business results.
This podcast is an example of how this was achieved.
References:
Rummler, G. A. and Brache, A. P. (1995). Improving performance : how to manage the white space on the organization chart (2nd ed., Ser. The jossey-bass management series). Jossey-Bass.
Killing, P., Malnight, T., & Keys, T. (2005). Must-Win Battles. Pearson Education Limited.
Tate, D. C., Pantalon, M. S., & David, D. H. (2022). Conscious Accountability: Deepen Connections, Elevate Results. American Society for Training & Development.
Teams and changes in context mater.
Are you experiencing tensions between teams?
Reach out and we would be happy to explore how you can leverage the opportunity that this creates.