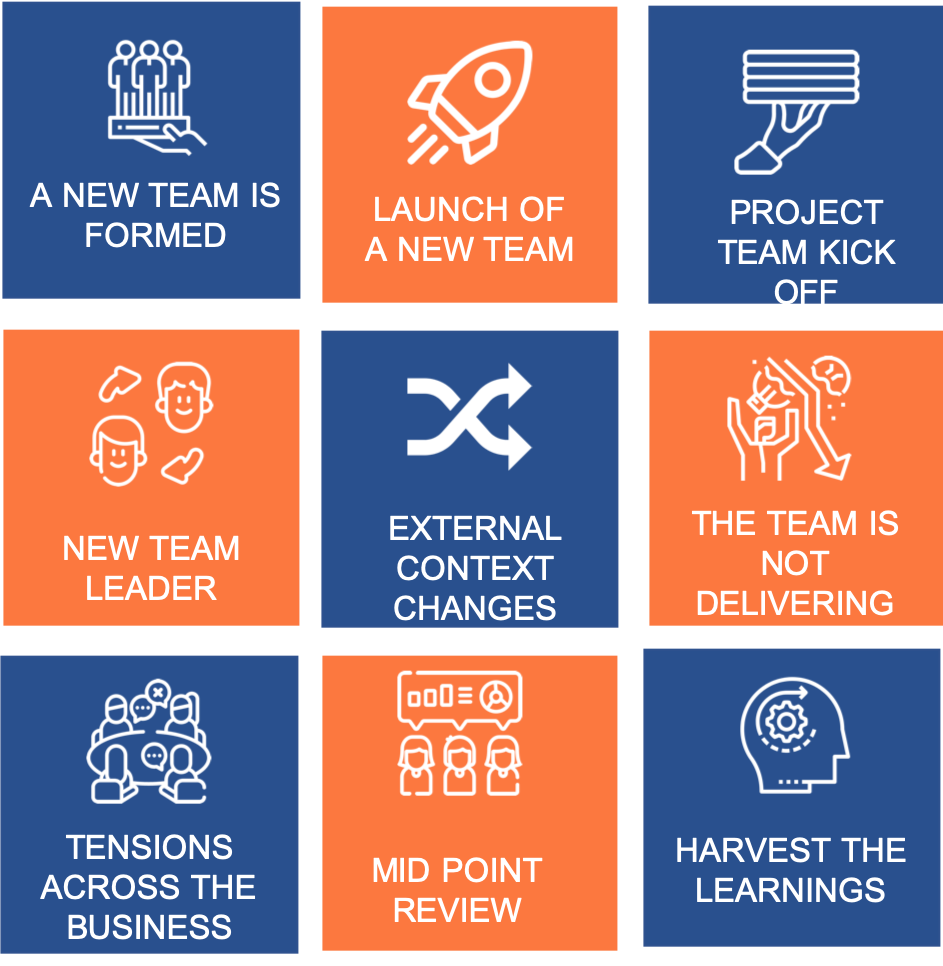 9 TEAM MOMENTS THAT MATTER
This series of short posts explores more deeply the Nine Team Moments that Matter when you, as a team leader, may need to pay extra attention to the needs and performance of your team. We identified these moments by blending our review of the research into high performing teams and our more than two decades of working with teams as internal and external consultants / coaches. 
Moment 5: Teams and Changes in Context
All teams operate within a wider context. This applies to operational teams, project teams as well as the C-suite. A change in that context is a trigger for your team to pause, and consider if it needs to revisit those same questions we discussed earlier when setting up your team.
Research has shown that if not addressed appropriately, such changes can have a detrimental impact on team performance (Koseoglu et. al., 2017).  Further, team's that continually reflect upon and adapt their working methods and functions are less likely to slip backwards in their performance (Schippers et.al., 2015)
Changes in context can be substantial and place the team under stress. The better designed the team, especially around norms and work practices, the more resilient it is likely to be to context changes. 
Examples of changes in context that have impacted teams we have worked with in the past include:
Change in organisation or business operating model
Shift in external market conditions
Merger with, or acquisition of another organisation
Organisation redesign
Implementation of new systems and processes that will impact what work your team does and how it does it
Case study 1: StartUp with unexpected growth 🚀
I recently worked with a scale-up team that happily, but unexpectedly, won two major supply contracts. The result was that this stretched the capability of the organisation, and in turn the leadership team. This change in context required the leadership team to expand, change the way that it operated and empower even further the teams below. The team used this as a moment to revisit its purpose and their leadership role during this growth phase.
A key question that the team grappled with was "are we working too interdependently?"  I have often seen this with startups and can be as detrimental to effectiveness as working too independently. 
TOOL TIP: If you are working with Startups, you may be interested in the Team Diagnostic for Startups. A team  assessment designed specifically for the unique team challenges that startup teams face. 
Case study 2: Implementation of a new ERP system
A change in organisation structure, and work processes triggered by the implementation of new enterprise resource planning (ERP) system had widespread implications for one organisation. We worked with the project team and coached them to weave in more team thinking into their change management approach as part of their overall organisation design process. It goes without saying that the project team and sponsors used the 6 Team Conditions to set themselves up to lead a successful delivery.
Further:
The ERP resulted in a change in elements of the operating model and organisation design – a key context change.
We used the organisation changes, the new systems and accompanying work processes to have the teams review their roles in the end to end delivery process. A reframing of their work and purpose.
We also took a 'team  of teams' approach to look more deeply at the interdependencies between teams and where were the critical points of collaboration, with out over collaborating.
One team realised that it no longer needed to exist. Although the team had been together for many years, the unique work of the team was either automated or better sat in other parts of the organisation. 
We used the teams across the organisation as the vehicle to embed and sustain the changes. 
In the above case we paid extra attention to the needs of the various stakeholders. These may be both inside and outside of the organisation. By looking at changes in processes and an organisation's value chain, we pin pointed key stakeholders who may not have been on the radar of the project team under the 'old context'. We then engaged with the stakeholders in various ways such as having team members interview the stakeholders or bringing the stakeholder into the room through role playing.
embed and sustain change through teams
As shown in the two case studies above, a change in context required a change in ways of working. Working on many change projects over many years, I can honestly say I did not give enough attention to the role that teams can play in embedding such changes. We developed plenty of support material for line managers to extol the virtues of the change or to deliver tough messages.  We worked with communication teams to write plenty of "WIIFM – what in it for me" articles. 
Rarely though did we provide a framework for team  leaders to  explore deeply what the impact of the change would be for their team, their work, shifts in expected norms and the connection with other impacted teams in the organisation. I have discovered more recently that taking such an approach empowers team leaders, together with their teams, to be more in the drivers seat with respect to change. This works much better than a feeling that "it is all being do to us".
Teams and changes in context mater.
has a change in context impacted your team?
Reach out and we would be happy to explore how you can leverage the opportunity that this creates.